Aprender Inglês
7 reasons why you should sing to learn languages
By Benny Lewis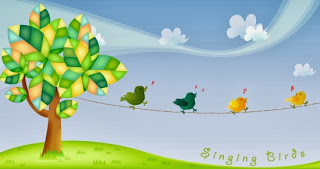 Singing is an amazing way to dramatically improve your language learning strategy. To prove to you that I?m serious about this, here is a video of me singing in German.
It?s a pop song called ?Pflaster? from ich und ich that I like. I?m not a good singer, but that doesn?t stop be from trying? Hopefully the Berlin scenery behind me distracts you from how bad my singing voice is!
Reasons to sing
Music and singing have made a huge difference in my language learning progress over the last seven years, as well as in getting along with the natives of the language. Here are a few reasons why:
Music connects across cultures and can break down barriers. When I have sung people songs they wouldn?t expect me to know and that they like, it has instantly broken the ice. In my first weeks in Berlin, even the start of the Sesame Street song in German helped me to make new friends! If I ever meet Madrileños I usually give them the theme song of Aquí no hay quien viva in an Irish twang. It always impresses them way more than perfect grammar ever will!
Getting to know the music is getting to know the culture and language and sometimes learning languages is like learning a musical instrument.
Learning the lyrics of a song helps you expand your vocabulary and teach you some slang/typical phrases.
Singing can actually help you reduce your foreign-sounding accent! One of the ways I managed to convince Brazilians that I was a Carioca back in December was due to taking intensive singing lessons instead of Portuguese lessons. My music teacher taught me more about sentence rhythm, pronunciation, tones and beat of Portuguese than a foreign language teacher ever would have been able to.
As described in the free chapter of the Language Hacking Guide (subscribe to the Language Hacking League on the right of the site to receive a copy), you can use music and singing to help you learn to speak simple basic essential phrases to get by in a language much quicker.
You can take music with you anywhere and learn and practise it on the move thanks to your MP3 player / mobile phone. While it?s pleasant to have music in the background, make sure to actually pay attention to the words if you want to learn something beyond just being able to hum the tune!
It?s fun! You can put your whole body into singing if you like and let your hair down a lot easier than you would in many speaking situations. You can really enjoy yourself by singing and it helps to improve your mood. Life would be way cooler if people sang more! Did you ever notice how happy everyone is in musicals?
So don?t be shy, and don?t worry if you don?t have a good singing voice (I don?t think Sony Records are going to be rushing to sign a contract with me based on the video above, but that isn?t the point is it?) and enjoy yourself!
If music has helped you to improve your language skills, share your story with us and let us know of even more reasons why people should sing to improve their language skills!
Source: http://www.fluentin3months.com/sing-to-learn-languages/
loading...
-
Learn A Language? Why? Which? How?
Why learn a language?Travel Even a little knowledge of the language can make a difference in attitude when you meet people from other countries. Speaking another language helps to break down barriers.Work and business It can help you give an added advantage...
-
Learning A Foreign Language: Five Most Common Mistakes
By Anne Merritt Learning a new foreign language is never easy ? but it's a lot harder if you fall into these five common traps, says Anne Merritt. It?s a myth that intelligent people are better at learning languages. Sure, it doesn?t hurt, especially...
-
Pronunciation And Listening Comprehension
Some tips on learning how to pronounce foreign languages and on improving your listening comprehsion.Why good pronunciation is importantLearning how to pronounce a foreign language like a native speaker is difficult but not impossible. The better your...
-
My Seven Secrets To Learn English
Posted by Oksana I have always been fond of English. My first memories go far into my early school years when my Mom was assisting me to repeat vocabulary. Well, what has helped me to approach my dream which implies good command of English? I decided...
-
Ten Tips For Accent Reduction
by Lisa Mojsin 1. Observe the mouth movements of native speakers and try to imitate them. When you are watching T.V. look at the mouth movements of the speakers. Repeat what they are saying, imitating the intonation and rhythm of their speech. 2. Listen...
Aprender Inglês