Aprender Inglês
Brazil learns to speak English
Jill Langlois
Along with the World Cup and the Olympics, English is coming to the Portuguese nation.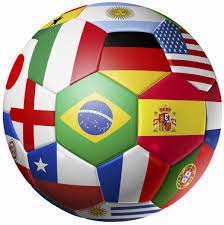 SAO PAULO, Brazil ? ?Stand in the wall, run through the net, pick up the ball, hit the wall, and throw up,? said the teacher, in English, at a recent tennis lesson for 6-year-olds at an international school here.
The kids stared back blankly. Then one spoke up: ?I?m sorry sir, can you repeat that? I didn?t understand.?
The teacher, a little frustrated, just repeated the same muddled instructions. English in Brazil is a work in progress.
Until recently, Brazilians didn?t need to use English at all. With a self-sustaining society and a history of military dictatorship that cut the country off from most outside contact for 21 years, Portuguese was the only language anyone needed.
But now that Brazil has landed two major games ? the World Cup in 2014 and the Olympics in 2016 ? that has started to change. After the government won the bids, it began to require public schools in Rio de Janeiro to teach English to all children between the ages of 6 and 8, with plans to expand the program to Sao Paulo next year.
Called Crianca Global ? Global Child, in English ? the government program has been put in place in order to ?prepare these children so that they can actively participate in the opportunities that will open up because of the Olympics,? according to a statement from Claudia Costin, Secretary of Education.
And as the country takes a bigger role on the world stage, Brazilians? interest in the global society has begun to shape national culture. Businessmen and women want to work for big, international companies. Young people want to study abroad in the United States, the United Kingdom and Canada.
The English language, at least in some Brazilian circles, has begun to be seen as more sophisticated than Portuguese.
?I really like the fact that English is getting more and more important in Brazil. It was about time!? said Gabriela Genovesi Gomes, a teaching assistant at a private international school in Sao Paulo who also studies education.
?It?s important for communicating with tourists and for traveling abroad, not to mention what it does for our language abilities and cognition.?
In Sao Paulo, the largest city in South America with over 11 million people, private English-language schools have sprung up on nearly every block with names like Wizard, Skill and Wise Up. If students are lucky, they get a native-speaking teacher. If not, they get a Brazilian who has already been out of the country and gets almost all of the grammar right.
It doesn't come cheap. Private lessons tend to run from 50-100 reals ($26-$53) per hour, which is no easy feat to pay when minimum wage is R$545 a month (about $290). And with such little time before people from all over the world jet into Brazil, it?s not clear whether the country will be as fluent in English as the government might like.
?I think they just have a lack of practice,? said John Milton, a professor of English literature and translation studies at the University of Sao Paulo for the past 27 years. ?There?s generally no need to use English in their day-to-day lives, so it?s difficult for Brazilians to find a place where they can actually speak the language.?
Some Brazilians have opposed the government push. ?Brazil should worry about the quality of the Brazilian curriculum subjects before even thinking about teaching another language at school,? said Marisa Mayumi Oliveira, a communications specialist in Sao Paulo who speaks fluent English. ?Most Brazilians barely speak Portuguese correctly. Besides, do we have enough qualified English teachers to teach proper English at these public schools? I really doubt it. We don?t have enough teachers with good qualifications in basic subjects.?
The government isn?t waiting for everyone to learn English. Signs all over major cities and main highways are now in Portuguese, Spanish and English, and some stores even have names in English, which has led at times to some confusion.
?There are signs for Parque do Ibirapuera [in Sao Paulo] that also say Ibirapuera Park,? Milton said. ?What?s the point in that??
Said Oliveira: ?I think the Brazilian government is just trying to add some makeup to the surface without treating the real problem, just so they can promote our country as an international nation for the World Cup and Olympics,? she said. ?After that, the government will hand out a very Brazilian solution: they will forget the subject forever.?
http://www.globalpost.com/dispatch/news/regions/americas/brazil/111004/brazil-english-language
Travel/Tourism Brazil Education
loading...
-
The Differences Between English And Portuguese
Introduction: Portuguese is a Romance language and part of the Indo-European language family. It is closely related to Spanish. It is spoken by about 180 million people world-wide, principally in Brazil and Portugal. The Portuguese spoken...
-
Don't Be Ashamed To Speak English!
In my personal encounters with Brazilians in the United States and especially in my travels to Brazil, I have noticed an apparent reluctance to conversationally engage in English with native speakers of English. While this phenomenon is common with many...
-
5 Speaking Rules You Need To Know!
1. Don't study grammar This rule might sound strange to many ESL students, but it is one of the most important rules. If you want to pass examinations, then study grammar. However, if you want to become fluent in English, then you should try to learn...
-
How To Improve Your English Skills
Fluency vs Accuracyby Craig Fluency is basically the ability to communicate (understand and be understood), whereas accuracy is whether or not you make mistakes. Which one you feel is most important depends on your purpose. If you are traveling in a...
-
Why You Should Know Clarice Lispector
The most important Jewish writer since Kafka may have also been a part-time beauty columnist with a penchant for Chanel suits. Benjamin Moser describes his fascination with Clarice Lispector ... Special to MORE INTELLIGENT LIFE In September 1994, when...
Aprender Inglês