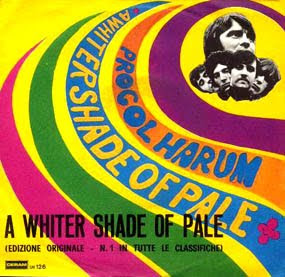 We skipped the light fandango
And turned cartwheels across the floor
I was feeling kind of seasick
The crowd called out for more
The room was humming harder
As the ceiling flew away
When we called out for another drink
The waiter brought a tray
And so it was that later
As the miller told his tale
That her face at first just ghostly
Turned a whiter shade of pale
She said there is no reason
And the truth is plain to see
But I wandered through my playing cards
Would not let her be
One of sixteen vestal virgins
Who were leaving for the coast
At the moment my eyes were open
They might just as well have been closed
And so it was that later
As the miller told his tale
That her face at first just ghostly
Turned a whiter shade of pale
https://www.youtube.com/watch?v=Mb3iPP-tHdA&feature=kp
From Wikipedia:
"A Whiter Shade of Pale" is the debut song by the British band Procol Harum, released 12 May 1967. The single reached number one in the UK Singles Chart[1] on 8 June 1967, and stayed there for six weeks. (Without much promotion, it reached #5 on the US charts, as well.)
With its haunting tone and Bach overtones, vocals by Gary Brooker, and unusual lyrics by Keith Reid, "A Whiter Shade of Pale" reached #1 in several countries when released in 1967. In the years since, it has become an enduring classic. In 2009 it was the most played song in public places in the UK,[2] and the United Kingdom performing rights group Phonographic Performance Limited in 2004 recognized it as the most-played record by British broadcasting of the past 70 years.[3] Also in 2004, Rolling Stone placed "A Whiter Shade of Pale" #57 on its list of the 500 Greatest Songs of All Time.
More than 900 recorded cover versions by other artists are known.[4] The song has been included in many music compilations over the decades and has also been used in the soundtracks of numerous films, including The Big Chill, Purple Haze, Breaking the Waves, The Boat That Rocked and notably in Martin Scorsese's segment of New York Stories. Cover versions of the song have also been featured in many films, for example by King Curtis in Withnail and I and by Annie Lennox in The Net.
The original writing credits were for Brooker and Reid only. On 30 July 2009, Matthew Fisher won co-writing credit for the music in a unanimous ruling from the Law Lords of the House of Lords.
Lyrics
Reid told Songfacts that he got the title at a party, which gave him a starting point for the song.[6] He overheard someone at the party saying to a woman, "You've turned a whiter shade of pale," and the phrase stuck in his mind.[7][8] The original lyrics had four verses, of which only two are heard on the original recording. The third verse has been heard in live performances by Procol Harum, and more seldom also the fourth.[9] The author of Procol Harum: beyond the pale, Claes Johansen, suggests that the song "deals in metaphorical form with a male/female relationship which after some negotiation ends in a sexual act."[8] This is supported by Tim de Lisle in Lives of the Great Songs, who remarks that the lyrics concern a drunken seduction, which is described through references to sex as a form of travel, usually nautical, using mythical and literary journeys.[10] Other observers have also commented that the lyrics concern a sexual relationship.[7]
The phrase a whiter shade of pale by Keith Reid has since gained widespread use in the English language, noticed by several dictionaries.[11][12][13] As such, the phrase is today often used in contexts independent of any consideration of the song. (See [14] for many annotated examples complete with links to original sources.) It has also been heavily paraphrased, in forms like an Xer shade of Y - this to the extent that it has been officially recognized[15][16] as a snowclone - a type of cliché and phrasal template.
Composition
The Hammond organ line of "A Whiter Shade of Pale" was inspired by Johann Sebastian Bach's "Sleepers, Wake!" and "Air on a G String", but contrary to popular belief, the song is not a direct copy or paraphrase of any music by Bach,[17] although it makes clear references to both pieces. This similarity is referenced in the 1982 play The Real Thing by Tom Stoppard and the 1991 film The Commitments. The music also borrows ideas from "When a Man Loves a Woman" by Percy Sledge.[18]
Reception
The single was released on 12 May 1967 (UK, Deram Records). It entered the UK charts on 25 May 1967. In two weeks, it had reached number one, where it stayed for six weeks. All in all, it stayed 15 weeks on the UK chart. A May 1972 re-release on Fly Records stayed in the UK charts for a total of 12 weeks, and reached number 13 as highest. In the US, it reached #5 and sold over one million copies.
Chart positions: # 1 (UK), # 1 (Germany) , # 1 (Ireland), # 1 (Australia), # 1 (World), # 3 (Norway VG-lista), # 5 (USA Hot 100)
Over time, "A Whiter Shade of Pale" has earned extensive critical acclaim.
It was named joint winner (along with Queen's "Bohemian Rhapsody") of the Best British Pop Single 1952-1977 at the BRIT Awards, part of Queen Elizabeth II's Silver Jubilee.
#57 on Rolling Stone magazine's list of the 500 Greatest Songs of All Time in 2004.
British TV station Channel 4 placed the song at #19 in its chart of the 100 greatest number one singles.[19