Aprender Inglês
Invictus - Nelson Mandela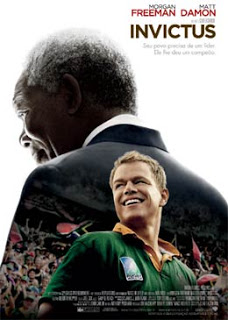 "Out of the night that covers me,
Black as the pit from pole to pole,
I thank whatever gods may be
For my unconquerable soul.

In the fell clutch of circumstance
I have not winced nor cried aloud.
Under the bludgeonings of chance
My head is bloody, but unbowed.

Beyond this place of wrath and tears
Looms but the Horror of the shade,
And yet the menace of the years
Finds and shall find me unafraid.

It matters not how strait the gate,
How charged with punishments the scroll,
I am the master of my fate:
I am the captain of my soul."
William Ernest Henley
I have just watched the marvelous film about how Nelson Mandela in his first term as the South African President, initiates a unique venture to unite the apartheid-torn land: enlist the national rugby team on a mission to win the 1995 Rugby World Cup.
Watch it. I strongly recommend it!
Frank Oliveira
************************************
Morgan Freeman's made a career out of playing inspirational second fiddles who always steal the movie. Now with Clint Eastwood's "Invictus", we finally get to see this amazing actor take front and center and run with it. The movie, based on a John Carlin novel about the event that changed South Africa, fits Freeman like a glove and it's hard to imagine he's not a front-runner for that lead actor Oscar he has so deserved for so long now.
He plays Nelson Mandela as a born leader, an authoritative yet empathetic uniter who preached forgiveness and looked for common ground when elected president of South Africa. His election caused unrest among whites, and blacks still had hard feelings for years-worth of oppression. The one thing he saw that could unite was the Rugby team, a shamefully rag-tag bunch facing extinction because many still saw the team as a left-over from apartheid. Mandela knew ending the team would mean more unrest among white Rugby fans so instead he presented a challenge to team captain Francois Pienaar (Matt Damon); win the world cup,unite us.
Do they? It's all predictably plotted and there are times where you wish Eastwood had employed an announcer to explain what's happening on the Rugby field but the great themes of forgiveness, unity, and determination make this a sports movie well worth seeing. There are really wonderful elements here. The relationship between Mandela's white and black security detail. The Rugby team reaching out to the community by going to the slums and teaching kids how to play. Pienaar's visit to Mandela's prison cell to understand the man's courage. The people of South Africa rallying into something of a community. And the bond between Mandela and Pienaar, very well played by both Freeman and Damon, of two men looking for their country's pride, it's center, and it's heart. By the final Rugby match, the movie has built up such good-will that any predictability or confusion on screen becomes an afterthought to the joy and excitement on display. Eastwood's film shows how sports can unify people, a simple yet inspirational and lovable message that should leave audiences cheering.
Source: http://www.imdb.com
loading...
-
South African English Vs. American English
A journey into understanding some common South African terms Are there many different ways of speaking English? Does English have many forms? Would you ever imagine yourself flossing with chocolate? Probably not! Yet...
-
Challenge Yourself To Always Learn
Photo: Let Ideas Compete This blog has posts on lots of subjects because I enjoy learning. This is why the mission statement for this blog is, "Things I think. Lessons I've learned." I take the adage: "You learn something new everyday" to heart....
-
Remarks By The President On Osama Bin Laden
Leia você mesmo o pronunciamento de Obama: THE PRESIDENT: Good evening. Tonight, I can report to the American people and to the world that the United States has conducted an operation that killed Osama bin Laden, the leader of al Qaeda, and a terrorist...
-
Never Wake Up: The Meaning And Secret Of Inception
By Devin Faraci This entire article is a major spoiler for Inception. Please do not read it until you've experienced Christopher Nolan's film for yourself. Every single moment of Inception is a dream. I think that in a couple of years this will...
-
The Spirit Messages From Elvis Presley
The Excerpts From The Book of Kings The Spirit Messages from Elvis Presley By Tatyana Elmanovich Introduction Both content and evidence are equally important in spirit messages. Without evidence a message doesn't work. But in the present and exceptional...
Aprender Inglês