Aprender Inglês
Reduplication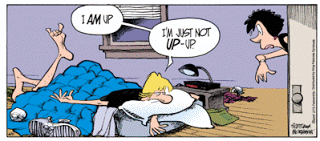 The coinage of new words and phrases into English has been greatly enhanced by the pleasure we get from playing with words. There are numerous alliterative and rhyming idioms, which are a significant feature of the language. These aren't restricted to poets and Cockneys; everyone uses them. We start in the nursery with choo-choos, move on in adult life to hanky-panky and end up in the nursing home having a sing-song.
The repeating of parts of words to make new forms is called reduplication. There are various categories of this: rhyming, exact and ablaut (vowel substitution). Examples, are respectively, okey-dokey, wee-wee and zig-zag. The impetus for the coining of these seems to be nothing more than the enjoyment of wordplay. The words that make up these reduplicated idioms often have little meaning in themselves and only appear as part of a pair. In other cases, one word will allude to some existing meaning and the other half of the pair is added for effect or emphasis.
New coinages have often appeared at times of national confidence, when an outgoing and playful nature is expressed in language. For example, during the 1920s, following the First World War, when many nonsense word pairs were coined - the bee's knees, heebie-jeebies etc. That said, the introduction of such terms begin with Old English and continues today. Willy-nilly is over a thousand years old. Riff-raff dates from the 1400s and helter-skelter, arsy-versy ( a form of vice-versa), and hocus-pocus all date from the 16th century. Coming up to date we have bling-bling, boob-tube and hip-hop. I've not yet recorded a 21st century reduplication. Bling-bling comes very close - one can't be far away.
Here are a few examples, there are many more:
Rhyming:
- These are reminiscent of Cockney rhyming slang, although in that the rhyme is usually with some other unspoken word, which doesn't form part of the phrase. For example, trouble and strife - wife. There are a few exceptions to this guideline, for example, chevy chase - face.
Arty-farty
Boogie-woogie
Chick-flick
Chock-a-block
Gang-bang
Eency-weency
Fuddy-duddy
Fuzzy-wuzzy
Hanky-panky
Happy-clappy
Harum-scarum
Heebie-jeebies
Helter-skelter
Higgledy-piggledy
Hob-nob
Hobson-jobson
Hocus-pocus
Hodge-podge
Hoity-toity
Hokey-pokey
Hubble-bubble
Hugger-mugger
Hurly-burly
Itsy-bitsy/itty-bitty
Jeepers-creepers
Lardy-dardy
Lovey-dovey
Mumbo-jumbo
Namby-pamby
Nitty-gritty
Okey-dokey
Pell-mell
Raggle-taggle
Razzle-dazzle
Rumpy-pumpy
Shilly-shally
Teenie-weenie
Topsy-turvy
Walkie-talkie
Willy-nilly
Exact:
Several of these are baby-talk, showing how they are used to help youngsters learn the language.
Blah-blah
Bling-bling
Bye-bye
Chi-chi
Choo-choo
Chop-chop
Goody-goody
Knock-knock
No-no
Rah-rah
So-so
Wee-wee
Yada-yada
Ablaut:
- This appears to be suggestive of a toing and froing motion, i.e. indicating a thing that is this and then that. For example, ding-dong, see-saw, tick-tock, zig-zag. Almost all of these use the vowel 'i' in the first part of the reduplication and either 'a' or 'o' in the second part. Why? I don't know.
Bric-a-brac
Chit-chat
Dilly-dally
Ding-dong
Fiddle-faddle
Flim-flam
Knick-knack
Mish-mash
Ping-pong
Pitter-patter
Riff-raff
See-saw
Shilly-shally
Sing-song
Tick-tock
Tip-top
Tittle-tattle,
Wishy-washy,
Zig-zag
loading...
-
David Crystal On Language Change
The prolific British language writer, David Crystal, has produced another winner: A Little Book of Language (now out in paperback), which Publishers Weekly calls "the perfect primer for anyone interested in the subject." In this excerpt, Crystal explains...
-
Teacher Talk Time / Student Talk Time
Most teachers readily agree that the students should receive as much opportunity to speak as is possible when learning English as a foreign language. This idea is especially true in the EFL classroom, where students don't live in an English-speaking...
-
Teaching Spelling Strategies To Esl Students
Teaching spelling strategies to ESL students is challenging for instructors. Many of the inconsistencies of the English language with regards to word meaning and pronunciation are directly confronted by students when they begin to put words to paper....
-
English Language: Cockney Rhyming Slang
(C) Keith Park I have written quite a few hubs in the past about various aspects of the English language such as Yorkshire dialect, UK slang and UK slang the sequel. A comment on one of these from Hubber Billy decided me on this hub. Cockney rhyming slang...
-
Baby Talk
William: Hello! Hi! My name's William. I'm six years old and this is my best friend, Wang Fei. Wang Fei: Oh? hello everybody. William: (Yawn) I feel sleepy! It?s almost time for beddy-byes! Wang Fei: Er? William, why are you speaking so strangely?...
Aprender Inglês