Aprender Inglês
Happy 90th Birthday, Stan Lee!
The man, the myth, the legend! Stan Lee turns 90 today. Join us in wishing a very happy birthday to a man who was the major creative force behind some of the world's most endearing and timeless literary characters of all-time.

Read more at http://www.comicbookmovie.com/fansites/GraphicCity/news/?a=71834#M4ML0cdKzPZCIKBG.99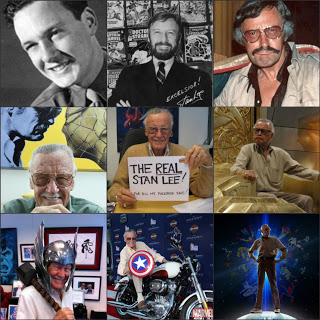 oday is the birthday of comic genius and wily television personality, StanleyLieber, better known as Stan Lee. The Marvel writer and editor behind works such as "The Amazing Spiderman" and "The Incredible Hulk" is turning 90 years old this Friday, December 28.
A young Stanley Lieber began his comic career at Timely Comics in 1939 in New York. His initial duties included proofreading, erasing pencil marks and filling inkwells, but two years after this drudgery he enjoyed his first text-filler job in a 1941 issue of "Captain American Comics," writing under the pseudonym Stan Lee.
His first real career break arrived at 19 years old, when Timely editor Joe Simon and his creative partner Jack Kirby left the company. Lee was subsequently given the post of interim editor, but it was his talent for writing and imagining epic heroes that earned him the permanent position of editor-in-chief, a seat he would occupy until 1972...
Read more in: http://www.huffingtonpost.com/2012/12/28/stan-lees-birthday-the-comic-genius-turns-90_n_2371345.html
loading...
-
Why Should Leaners Study The Present Perfect?
Sometimes people learning English use the past tense when they should use the present perfect. Here's an example of three common mistakes. I lived in Minnesota for 10 years. (ok, but it sounds like he is no longer there and lives in another...
-
Top English Hints
Tags: unreal situationsIT'S (HIGH) TIME + PAST SUBJUNCTIVE1. It's (high) time + past subjunctive expresses that something should be done and that it is already a little late:It's time you went to bed. You'll have to...
-
Spreading Ideas
Every time a learner ask me how they could improve their English, I always recommend them to start writing. As a very effective output, writing can help you to access and connect your ideas and communicate actively them. However,...
-
Learning English Is Simple, Just Have Fun
By johnhayden We recently found a good article in the Shanghai Daily about how so many learners are taking the fun out of learning English. Does it have to be so painstaking, and is there proof that no-fun learning is more efficient? It?s...
-
Savoring And Improving
Although the difficulties, the journey to speak English is a blessing for the mind. It is known by the cientists and neurolinguistics that the brain gets stronger when one is learning a new language or how to play a musical instrument....
Aprender Inglês